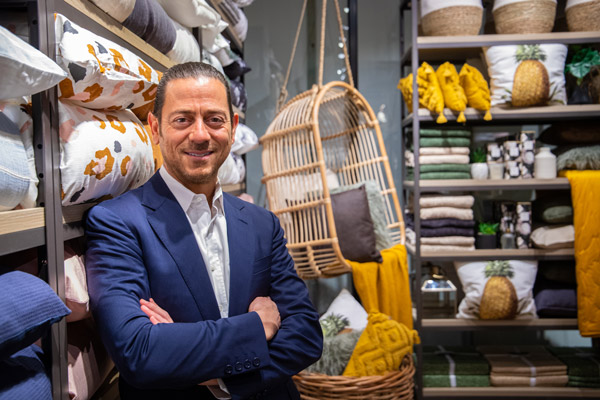 Steven Lew is the Executive Chairman of SL Investments Group which has extensive investments globally across the public and private sector, seed capital, property, green energy, technology, media and payment platforms.
Steven Lew is the Founder & Executive Chairman of Global Retail Brands Australia (GRBA). The Group develops and invests in many retail concepts with over 200 homewares stores. The Group has stores in all States and Territories in Australia. Global Retail Brands Australia also operates the e-commerce websites for HOUSE.com.au, RobinsKitchen.com.au, YourHomeDepot.com.au, PetHouse.com.au, Baccarat.com.au, MyHouse.com.au, Bessemer.com.au and HOUSEbedandbath.com
Steven Lew is the Executive Chairman of HOUSE retail stores. HOUSE is Australia's #1 largest specialty kitchenware retailer, with over 100 stores nationwide.
HOUSE specialises in cookware, homewares, dining and gifting essentials. HOUSE stocks some of Australia's and the worlds most loved Brands – Baccarat, Scullery, Marie Claire Paris, Breville, Alex Liddy, iD3, iconiX, Global Knives, STONE, KitchenAid , Cellar glassware, Soffritto, and many more.
Steven Lew is the Executive Chairman of Robins Kitchen retail stores. Robins Kitchen is Australia's #2 largest speciality kitchenware retailer. In 2014 Global Retail Brands Australia acquired the Robins Kitchen business. After completing the purchase, Steven led the team to open 50 Robins Kitchen stores within 5 weeks. Today Robins Kitchen is a National retailer in Australia with over 70 stores.
Steven Lew is the Executive Chairman of PlayCorp Group of Companies. PlayCorp is recognised as one of Australia's largest distributors of homewares, promotional material, apparel and sporting goods. PlayCorp has been operating for over 25 years. Over the journey, PlayCorp has been a major Licensing Partner and innovator to – The Australian Football League (AFL), The Simpsons, Warner Brothers, Disney, Marvel, Lucas Films, Fosters, Penfolds, NRL, Holden GMC, Ford, Baccarat, Arcosteel, Marie Claire Paris, Under Armour, Everlast, plus many more.
Not content with GRBA building its way to unquestionably Australia's only category-killer for specialty homewares, Mr Lew is pursuing a market leading position in the Home Furnishings category.
In 2020 GRBA acquired the 60 year old MyHouse Brand and retail network. MyHouse was always NSW centric with 33 physical stores. Under GRBA's stewardship, FY21 will see MyHouse expand outside it's home State of NSW and become a truly National retailer, with an aggressive store roll-out strategy to have a representation in every State across Australia. Mr Lew has hired Australia's best talent to develop and market luxurious linens, towels, lifestyle products and occasional furniture for your bedroom, bathroom and all your living spaces.
Running in tandem with the MyHouse's roll-out strategy, is the launch of GRBA's newest Brand…..House – Bed & Bath. House – Bed & Bath opened its first flagship store at Westfield Doncaster in May 2021. The bar has been raised in the Home Furnishing category. The new retailer has already been recognised as taking a market leading position with its forward thinking, product selection and instore environment. House – Bed & Bath is on an exciting journey. The second House – Bed & Bath store opens in late May 2021, and GRBA will have 45 House – Bed & Bath stores Nationally by June 2022.
To coincide with the launch of House – Bed & Bath, GRBA has announced collaborations with Australia's best known celebrity homemakers, Deborah Hutton and Neale Whitaker, exclusively stocked in MyHouse and House – Bed & Bath. Additionally, GRBA will launch two exclusive National licensing agreements, one exclusive international collaboration, plus extensive advertising and promotional campaigns including endorsement by Australia's #1 home lifestyle magazine.